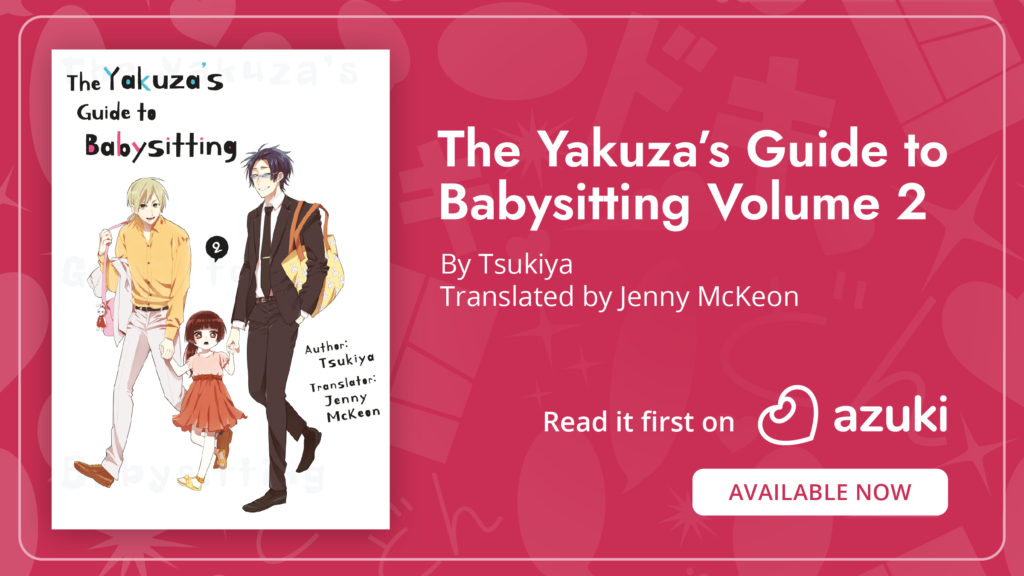 Along with our usual assortment of simulpub and catalog updates, this week on Azuki we have a very special early arrival for our premium subscribers!
---
Read The Yakuza's Guide to Babysitting Volume 2 First on Azuki!
Starting TODAY, Premium members can read the latest volume of The Yakuza's Guide to Babysitting a week before it goes on sale, courtesy of our friends at Kaiten Books. Fall in love with the story of a hard-boiled gangster and the adorable little girl who just might melt his heart.
---
Simulpub Updates!
EDENS ZERO Chapter 151: Handprints
Four Knights of the Apocalypse Chapter 23: Arthur Pendragon
To Your Eternity Chapter 146: "Number One (1)"
Shangri-La Frontier Chapter 48: Prof. Pencilgon's PK Laundering Seminar
---
The Catalog Keeps Growing
Smile Down the Runway, Chiyuki Fujito has a dream: to become a Paris Collection model. The problem is, she's too short. Her classmate, a poor student named Ikuto Tsumura, also has a dream: to become a fashion designer. This is the story of two people chasing after their dreams. Chapters 11 – 77 Available Now
Welcome to the Ballroom, Tatara Fujita wants to be good at something – anything. Unfortunately, he's about as average as can be. When Kaname Sengoku saves him from local bullies, Tatara Fujita gets pulled into the world of the ballroom and his life will never be the same. Chapters 4 – 21 Available Now
Real Girl, Hikari Tsutsui is content with his virtual life of anime and video games. One day, he gets stuck cleaning the pool with Iroha, a real live girl who is stylish, sassy and known to be easy with boys…and she aggressively approaches him! Tsuttsun, who has few friends and lives in his own world, finds himself smitten by the confident and wild Iroha…and his whole world is turned upside down! Chapters 5 – 39 Available Now
A Kiss, For Real, Chitose is a high school girl who lives her life wearing a "mask" in order to be liked by everyone. One day, a boy named Itsuki saves her from a pervert. Unable to forget his eyes, she follows him to an art prep school!! Then, Chitose was led around the prep school by Itsuki, but he sees through her fake façade… Chapters 5 – 28 Available Now