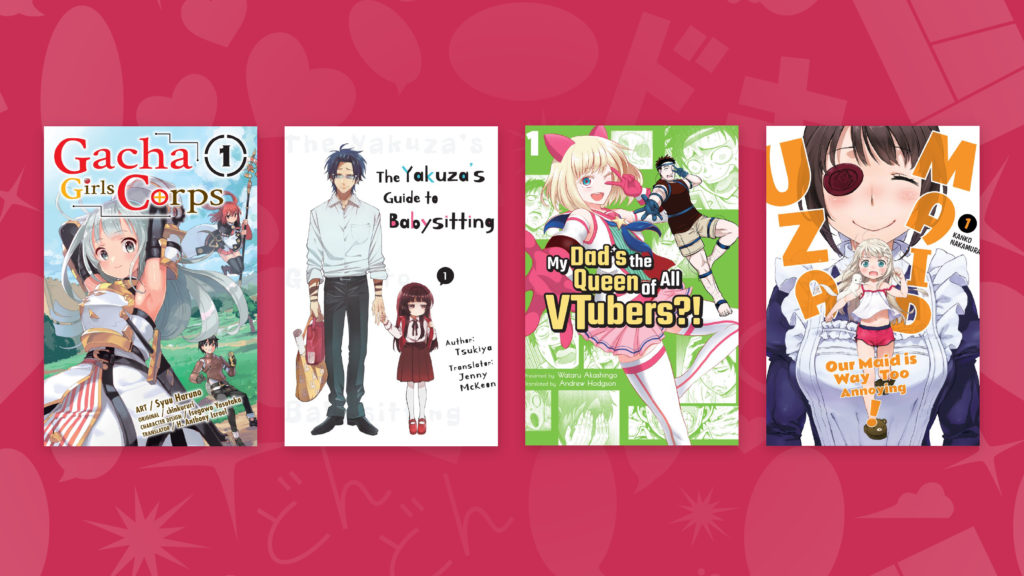 SAN FRANCISCO, CA — Azuki is excited to announce their second publishing partner: Kaiten Books. When Azuki launches on Monday, June 28, 2021, the service will offer four of Kaiten Books' titles — UzaMaid: Our Maid is Way Too Annoying!, Gacha Girls Corps, The Yakuza's Guide to Babysitting, and Internet darling My Dad's the Queen of All VTubers?! — for all Premium members.
"In less than two years Kaiten Books has built an impressive and eclectic library of titles," said Abbas Jaffery, co-founder and CEO. "Azuki is all about bringing the best of manga to our readers and Kaiten's commitment to variety and unique new titles makes them a perfect partner. We can't wait for fans to read these series on Azuki!"
"We couldn't be happier to be partnering with Azuki to offer our titles on their service," said Garrison Denim, President of Kaiten Books. "This is the kind of platform I wish existed when I first got into manga, and I know they have a team with the talent and skill to make it something special."
When Azuki launches on June 28, users will be able to sign up for a Premium membership for $4.99 per month. A 30-day free trial will also be available.
Readers can sign up to be reminded when the service launches by visiting azuki.co or following Azuki's social media accounts at twitter.com/ReadAzuki, facebook.com/ReadAzuki, and instagram.com/readazuki.
About Azuki and KiraKira Media Inc.
Azuki is created by KiraKira Media Inc., a proudly worker-owned business dedicated to improving access to legally licensed manga, led by a small team of passionate manga fans and tech experts in San Francisco, CA. KiraKira Media Inc.'s founders are Adela Chang, Abbas Jaffery, Evan Minto, and Krystyn Neisess.
About Kaiten Books
Kaiten Books is a localization and publishing company driven to bring the best Japan has to offer to the English-speaking fans of the world — like us! Our name is based off the famous sushi-go-round restaurants in Japan (called "kaiten-zushi,") and our goal is to bring you as much variety in our releases as you would find on the menu in the finest Tokyo sushi bars.
If you're going to eat sushi, you want the best chef. If you're going to read Japanese translations — you want Kaiten Books. Our doors are always open for lovers of manga, so come on in and check out what's on the menu today!