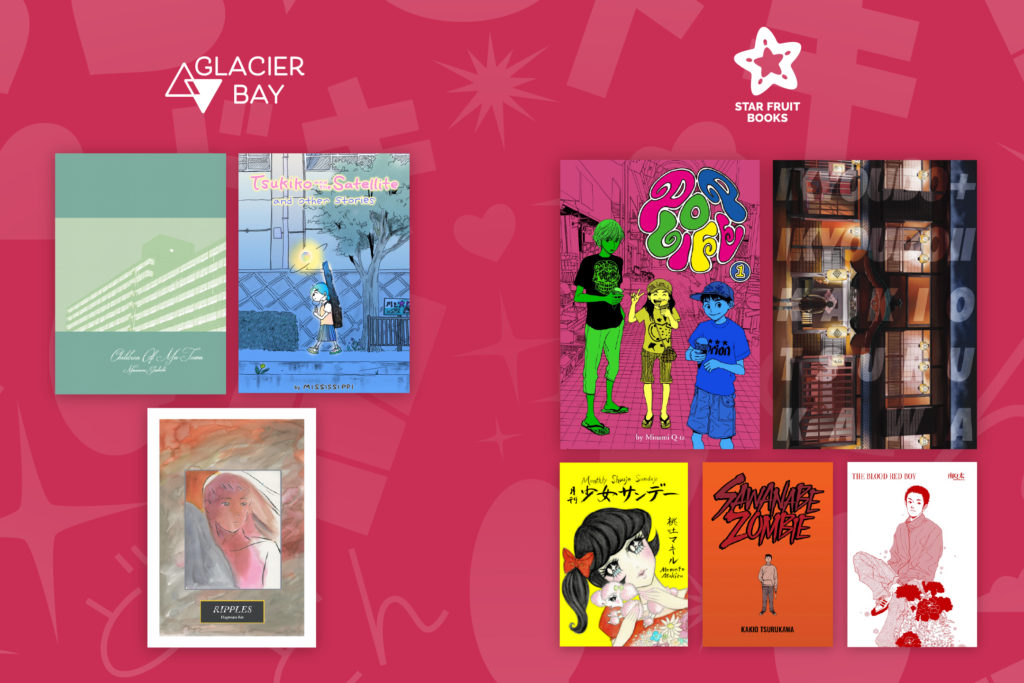 SAN FRANCISCO, CA — Digital manga subscription service Azuki has partnered with English-language manga publishers Glacier Bay Books (recent winner of the prestigious Ignatz Award) and Star Fruit Books to distribute a selection of their critically acclaimed indie manga on the platform.
The books from Glacier Bay coming to Azuki include the urban crime drama Children of Mu-Town and the evocative and introspective Ripples, as well as Tsukiko and the Satellite and other stories. Star Fruit's books include single-parent slice-of-life Pop Life and sci-fi revenge story Ikyoudo, as well as Monthly Shoujo Sunday and the one-shots "The Blood Red Boy" and "Sawanabe Zombie." This marks the first time any of these titles has been made available in English on a subscription manga service. Chapters from Children of Mu-Town, Tsukiko and the Satellite and other stories, Pop Life, and Ikyoudo are available to read right now, while the remaining series and chapters will appear on Azuki in the coming weeks.
As is the case with most of Azuki's catalog, many of these titles will have select chapters available for free with advertisements, allowing users to sample over 170 series on the service for free. For just $4.99 per month users can sign up for a Premium account and read the entire catalog with no ads. A 30-day free trial is also available. All titles are available worldwide (except Japan) in English.
"Glacier Bay and Star Fruit are pushing the boundaries of English-language manga publishing," said Azuki's Marketing Director Evan Minto. "We're proud to partner with both of them and introduce our users to both the world of indie manga and these publishers' meticulous, curatorial work. We hope that reading these unique series and one-shots on Azuki will encourage fans to seek out Glacier Bay and Star Fruit's stellar print releases as well."
"Glacier Bay Books is excited to partner with Azuki and expand the reach and accessibility of our lineup of contemporary indie titles. Azuki's digital manga service represents a compelling new opportunity for the English-language industry, bringing global access to titles across a broad and growing swath of publishers both large and small," said Glacier Bay Books' Editor in Chief Emuh Ruh. "With their modern digital reader, and mission to create a sleek and intuitive service for fans, Azuki is pushing the streaming market into a stronger, more reader/consumer-oriented position. I'm proud to join fellow new publisher Star Fruit Books in partnering with Azuki to bring contemporary titles from beyond the commercial mainstream norm to a broader English-language audience."
"We're happy to be contributing several titles to Azuki's library of digital manga!" said Matt Haasch of Star Fruit Books. "We look forward to adding more and more series over time."
Azuki is available on the web at azuki.co, as well as in the iOS App Store and Google Play Store. Readers can stay up to date on the latest Azuki announcements by following Azuki at twitter.com/ReadAzuki, facebook.com/ReadAzuki, and instagram.com/readazuki.
About Azuki and KiraKira Media Inc.
Azuki is created by KiraKira Media Inc., a proudly worker-owned company dedicated to improving access to legally licensed manga, led by a small team of passionate manga fans and tech experts in San Francisco, CA. KiraKira Media Inc.'s founders are Adela Chang, Abbas Jaffery, Evan Minto, and Krystyn Neisess.
About Glacier Bay Books
Glacier Bay Books is a small independent publisher based in the USA. Glacier Bay focuses on small press art comics and the indie / alternative manga scene. Among other works, they are the publisher of the award-winning manga anthology series GLAEOLIA. Visit them on the Web at glacierbaybooks.com.
About Star Fruit Books
Star Fruit Books is a small boutique manga publisher that currently features an assortment of slice-of-life, action, horror, and other unique indie titles. They offer releases via their website and will soon be in a few small comic shops across the US. Visit them on the Web at starfruitbooks.com.