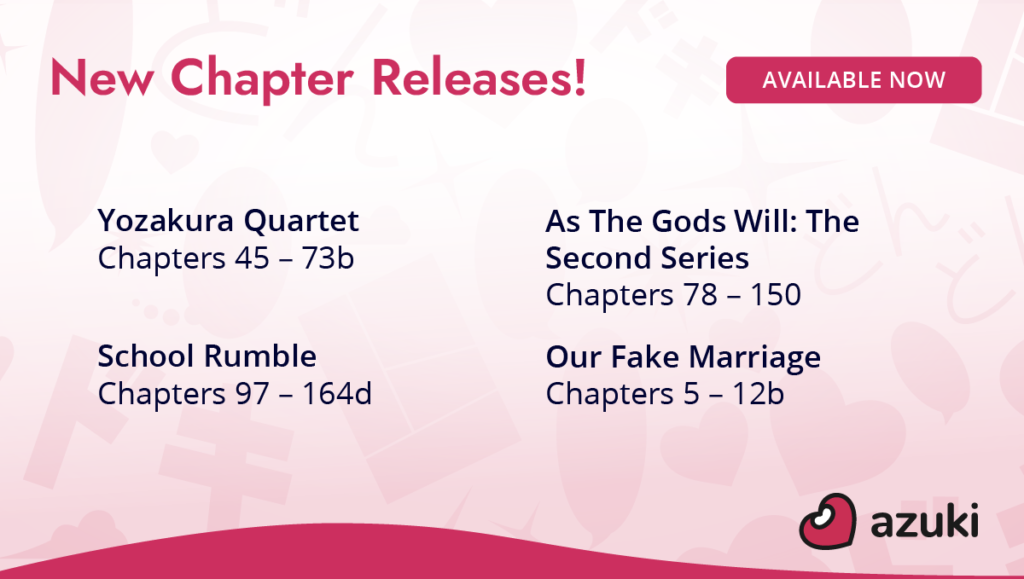 Welcome back to your weekly Azuki manga update! This time we're adding even more chapters of four fan favorite series, including As the Gods Will, the survival game series that's sure to satisfy your appetite while you wait for more Squid Game. And keep reading for this week's new simulpub chapters as well. Enjoy!
New Catalog Chapters
Yozakura Quartet: SUPERTEENS! Hime is a super-heroine. Ao can read minds. Kotoha can conjure up anything with the right word. And Akina . . . well, he's just a regular guy, surrounded by three super-girls! Together, they protect the town of Sakurashin. But that's not easy, as the town faces demon dogs and other supernatural threats!
New chapters available for Premium members!
As The Gods Will: The Second Series: With the appearance of a strange daruma doll, ordinary life crumbles away in an instant. Even so, live on. Survive. This is the story of the "life" bestowed upon all those who have wished to die. Are you beef or chicken? Live, that's the only rule.
New chapters available for Premium members!
School Rumble: She is a second-year high school student with a single all-consuming question: Will the boy she likes ever really notice her? He is the school's most notorious juvenile delinquent and he's suddenly come to a shocking realization: He's got a huge crush, and now he must tell her how he feels. Life changing obsessions, colossal foulups, grand schemes, deep-seated anxieties, and raging hormones–School Rumble portrays high school as it really is: over-the-top comedy!
New chapters available for Premium members!
Our Fake Marriage: Yae is an unremarkable girl who temps for a living. She loses her home and job in one stroke and is, at 29, at her wits' end. Then her childhood friend Takumi appears before her. A good-looking, successful architect, he lives a glamorous life. In exchange for free accommodation in his skyscraper condo in the heart of Tokyo, Yae acts as his fake wife?! This is the story of a fake marriage to a smug, handsome architect!
New chapters available for Premium members!
---
Simulpub Update
The Seven Deadly Sins: Four Knights of the Apocalypse Chapter 42
Cardcaptor Sakura: Clear Card Chapter 58
To Your Eternity Chapter 152.2