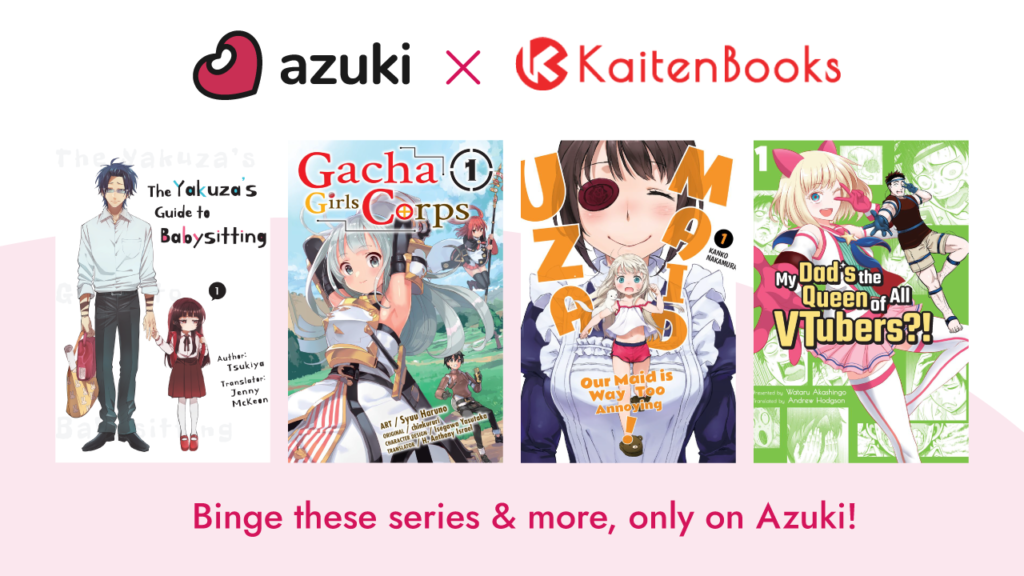 SAN FRANCISCO, CA — Digital manga subscription service Azuki is now the exclusive streaming home of Los Angeles-based manga publisher Kaiten Books. Kaiten's series, including The Yakuza's Guide to Babysitting and My Dad's the Queen of All VTubers?!, are currently available on Azuki in addition to print and ebook editions released by Kaiten. Azuki will be the only streaming manga subscription service to offer current and future volumes of these series, as well as new series released by Kaiten Books.
In addition, Kaiten Books and Azuki recently announced an early release of Volume 3 of Gacha Girls Corps. Azuki Premium members currently have exclusive access to the entire third volume of this adorable fantasy action-comedy on Azuki ahead of its ebook release.
Manga fans can join Azuki's Premium membership plan to read the entire catalog, including series from Kaiten Books, the latest chapters of hit series like EDENS ZERO and A Sign of Affection, and more, with no ads, for just $4.99 per month. A 30-day free trial and a discounted annual membership are also available. All titles are available worldwide (except Japan) in English.
Azuki is available on the web at azuki.co, as well as in the iOS App Store and Google Play Store. Readers can stay up to date on the latest announcements by following Azuki at twitter.com/ReadAzuki, facebook.com/ReadAzuki, and instagram.com/readazuki.
About Azuki and KiraKira Media Inc.
Azuki is created by KiraKira Media Inc., a proudly employee-owned company dedicated to improving access to legally licensed manga, led by a small team of passionate manga fans and tech experts in San Francisco, CA. KiraKira Media Inc.'s founders are Adela Chang, Abbas Jaffery, Evan Minto, and Krystyn Neisess.
About Kaiten Books
Kaiten Books is a localization and publishing company driven to bring the best Japan has to offer to the English-speaking fans of the world–like us! Our name is based off the famous sushi-go-round restaurants in Japan (called "kaiten-zushi,") and our goal is to bring you as much variety in our releases as you would find on the menu in the finest Tokyo sushi bars.