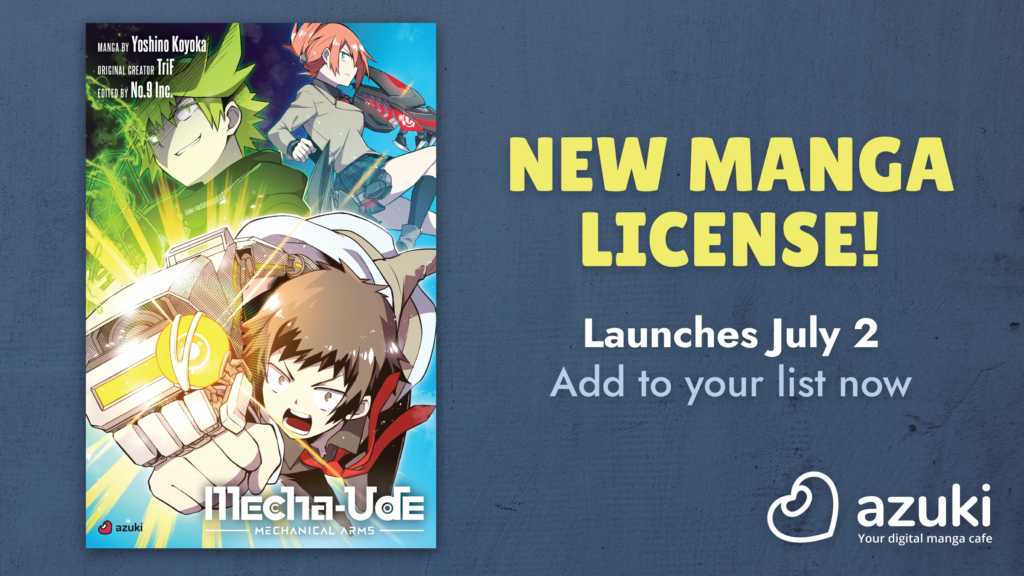 Azuki is proud to announce that we've exclusively licensed Yoshino Koyoka's manga adaptation of fan-favorite sci-fi action anime Mecha-Ude: Mechanical Arms for English release outside Asian territories. The first two chapters will launch on July 2, 2023 and will be available via the Azuki website and iOS and Android apps with new chapters launching every Wednesday thereafter. Mecha-Ude will be available to read worldwide except Japan, South Korea, China, Taiwan, Hong Kong, and Macau. The synopsis is below:
Kitakagami City is a pretty normal town… except that some people have gotten their hands on Mecha-Ude: powerful, sentient mechanical beings attached to the limbs of their hosts. When middle school kid Hikaru accidentally activates Alma, a mysterious Mecha-Ude with no memory of his past, he forms an unlikely connection with the talking arm. But where did Alma come from? And why are shadowy secret organizations and corporate assassins with deadly Mecha-Ude of their own suddenly chasing Hikaru down, hell-bent on stealing Alma? Hikaru and Alma must learn to work together to uncover the truth behind Alma's identity and prevent him from ending up in the wrong hands (or on the wrong arm)!
If you haven't heard of it already, Mecha-Ude: Mechanical Arms is an anime project created by animator Okamoto and TriF Studio, who released an independently produced pilot film in 2019 after a successful Kickstarter campaign. In September 2022, Pony Canyon announced the production of a new anime series directed by Okamoto with production by TriF, and launched Koyoka's manga adaptation in Japan. "It's been inspiring watching Okamoto and the team at TriF develop Mecha-Ude from an indie short to a full-fledged anime series," said Azuki Licensing Director Evan Minto. "Azuki is proud to help spread their creation to more fans around the world."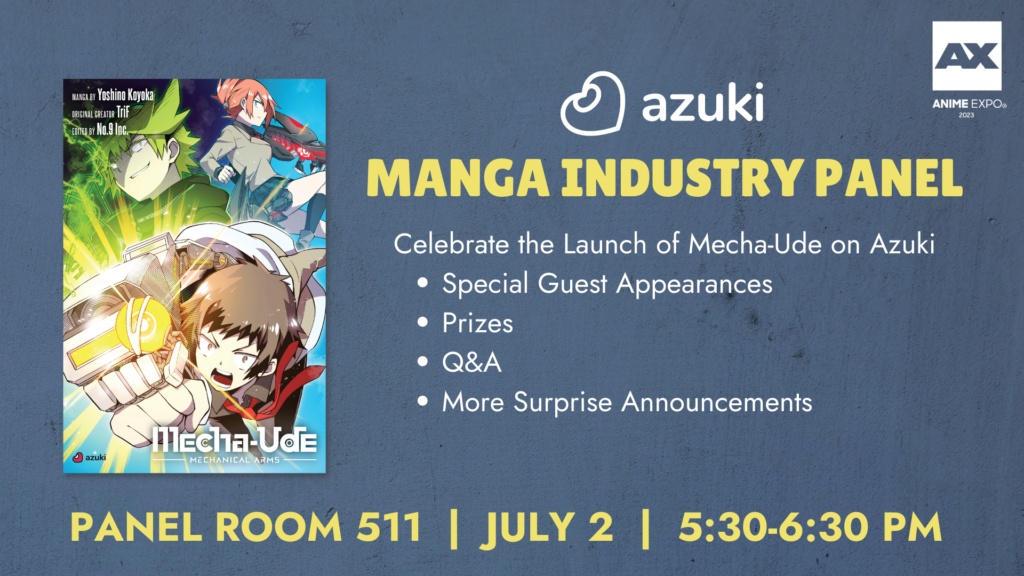 Azuki and Pony Canyon will be at Anime Expo 2023 in Los Angeles, CA July 1-4. Fans can visit Azuki at Booth #3021 and can look forward to Mecha-Ude merchandise giveaways and events at the convention, including a Mecha-Ude anime premiere and panel on July 2 at 2:30 PM, an Azuki Manga Industry Panel featuring Mecha-Ude on July 2 at 5:30 PM, and an autograph session with staff from the Mecha-Ude anime in Kentia Hall on July 3 at 2:00 PM. We welcome all new and pre-existing fans of Mecha-Ude to join us for a weekend of mechanical arms action!