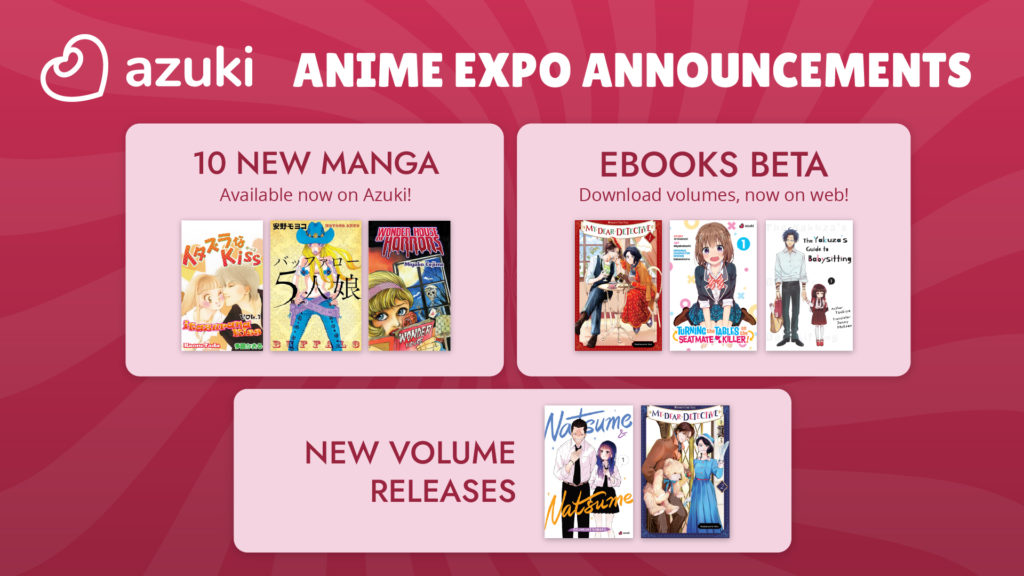 Celebrate the launch of Mecha-Ude: Mechanical Arms, the newest exclusive on Azuki with 10 new manga announcements as well as new features + new/returning series coming soon as eBooks!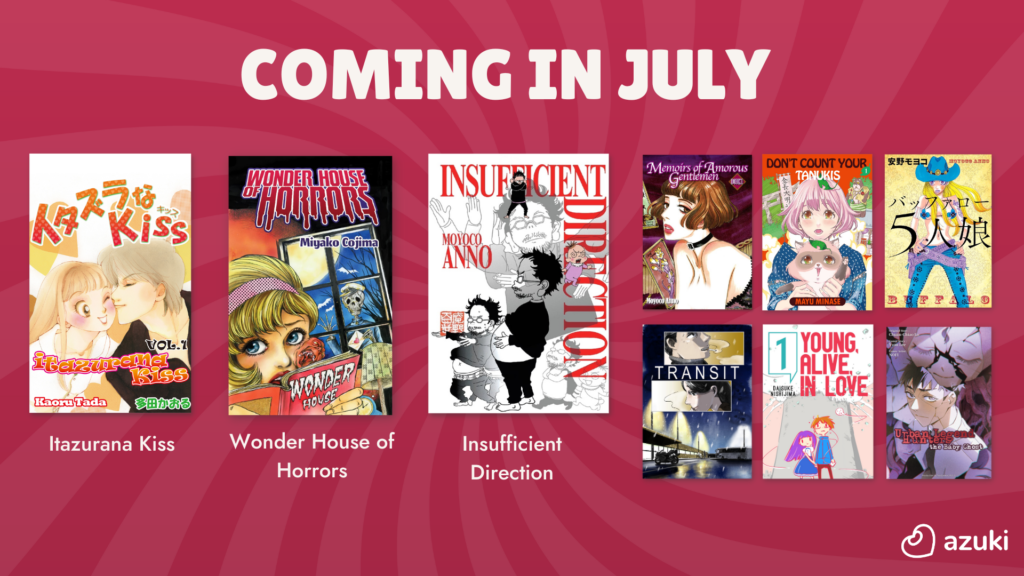 At our Anime Expo 2023 panel, we celebrated the launch of our latest exclusive manga series, Mecha-Ude: Mechanical Arms by Yoshino Koyoka and TriF, and announced new manga licenses, upcoming volume releases, and a beta feature allowing fans to download eBooks directly from the Azuki website.
First up, we announced the addition of 10 new manga series coming in July ☀️ Series include Itazurana Kiss, Wonder House of Horrors, and four series from legendary josei manga artist Moyoco Anno. Most are available to read right now. The full list is below:
💋 Itazurana Kiss 💋by Kaoru Tada
A high school girl gets rejected by her crush – a popular sports champion with an IQ of 200. As if her luck wasn't bad enough, her house gets destroyed and she somehow ends up living at his house! 😱
🦇 Wonder House of Horrors 🦇 by Miyako Cojima
A 10-story horror anthology that is sometimes kooky, sometimes gory, and sometimes positively profound!
🤠 Buffalo 5 Girls 🤠 by Moyoco Anno
In unforgiving towns rampant with sex and violence – what happens when prostitutes fall in love? Two working girls risk their lives to break the cycle, all for the sake of the freedom they've never had.
🎬 Insufficient Direction 🎬 by Moyoco Anno
When Moyoco Anno, successful creator of women's manga, married creator of Neon Genesis Evangelion Hideaki Anno, she had one doubt:
"Am I really ready to be an otaku's wife?"
🍷 Memoirs of Amorous Gentlemen 🍷 by Moyoco Anno
Paris, France – Beginning of the 20th century. Colette works in a brothel and the only thing that brings her happiness are her secret meetings with a handsome gigolo named Leon who she feels helplessly attracted to despite his inability to remain faithful.
📕 The Diary of Ochibi-san 📕by Moyoco Anno
In a little town somewhere in Japan's ancient capital, the cheerful Ochibi lives an easy life with his friends where he welcomes the new discoveries and acquaintances that come with the changing seasons.
💓 Young, Alive, in Love 💓by Nishijima Daisuke
Makoto uses a Geiger to measure radiation and Mana can see ghosts. The two fall in love. What is more important, decontamination or spirit cleansing?
📱 Urban Legend Hunters 📱Story by Yvon Lee, Art by NOFI
Have you heard of the popular horror mobile game from Taiwan? This series has been adapted from the "urban Legend Hunters" series where urban legends grow in power as they grow in popularity.
🦝 DON'T COUNT YOUR TANUKIS 🦝 by Mayu Minase
Riku, has dreamed of going to university outside his prefecture with his childhood best friend and girl he loves, but is instead forced to marry a girl named Miyo due to an old family promise.
However, just what is Miyo's incredible secret?!
🚌 Transit 🚌 by Makoto Aizawa
Life is just a repetition of encounters and partings, and where we are now is in any case a transit point. A series of coming of age stories about the days we go through feeling lost. Coming to Azuki July 21.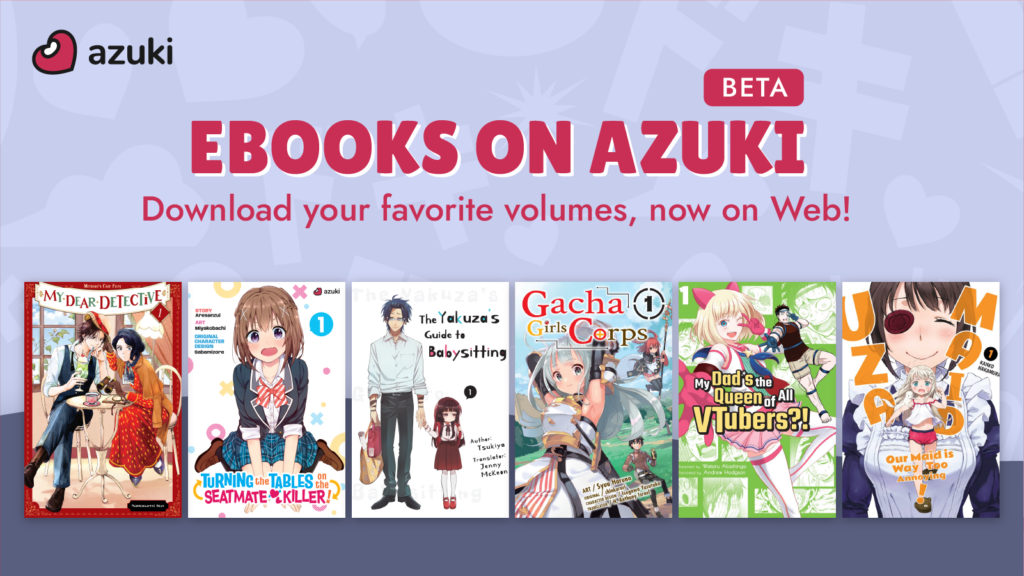 📚 Downloadable eBooks, Now on the Azuki Website
That's right, you can now get downloadable eBook editions of My Dear Detective: Mitsuko's Case Files, Turning the Tables on the Seatmate Killer!, The Yakuza's Guide to Babysitting, and more, directly on the Azuki website! These series are still available to read in full via a Premium membership, PLUS Premium members who want to own their favorite volumes get up to 20% off all volume purchases.
To buy a volume, just visit any series page, scroll down, and click the "Buy" button on any volume! We'll send you an email right away with a download link.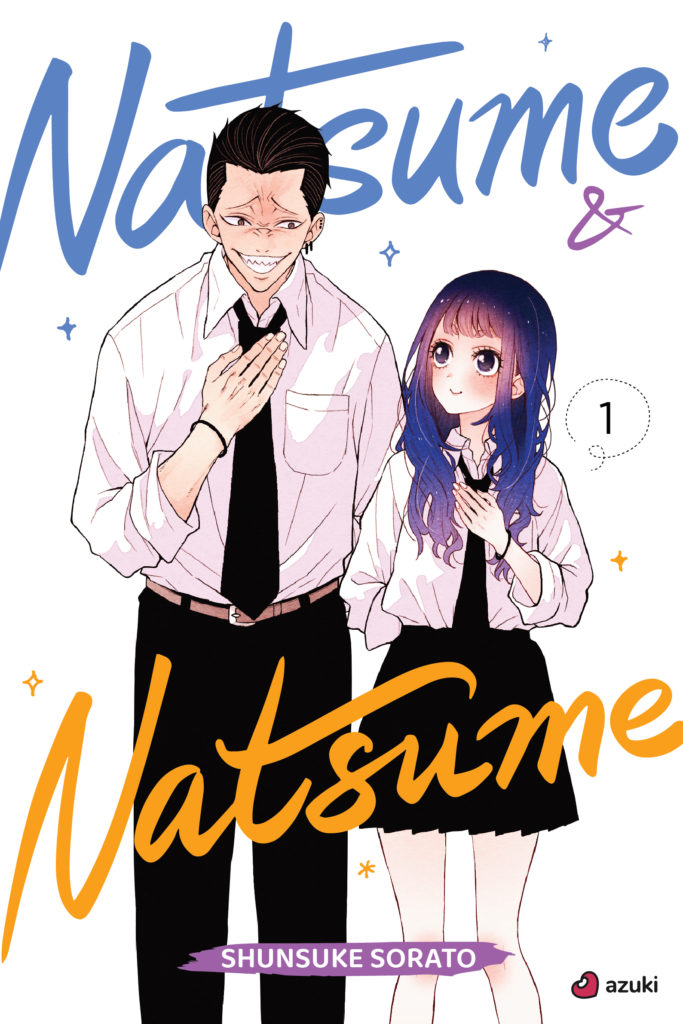 💖 Natsume & Natsume eBooks
The latest Azuki series to get an eBook edition is Natsume & Natsume by Shunsuke Sorato! Don't let his scary face fool you: Natsume's earnest pursuit of all things heroic is sure to charm even the most cynical manga readers. Volume 1 is available for pre-order NOW on BookWalker and Apple Books, with Amazon and Google Play Books pre-orders going live in the next few days.
Natsume Shiranui has the face of a villain. From strangers on the street to his own high school classmates, his creepy grin freaks everybody out. But secretly he yearns to be a hero like his childhood friend — the kind, brave, and beautiful Natsume Minazuki. Can he become her hero, or is he destined to always be the one getting rescued? From the creator of The Girl with the Sanpaku Eyes, Natsume & Natsume is a wholesome romantic comedy about becoming a hero for the person you love.
🔍 My Dear Detective: Mitsuko's Case Files Volume 2 Pre-Orders
Fans of historical mystery adventures have lots to look forward to as well. My Dear Detective: Mitsuko's Case Files Volume 2 is up for pre-order NOW on BookWalker, Apple Books, and Google Play Books, with Amazon pre-orders going live in the next few days.